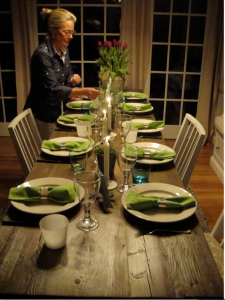 Last month my friend the talented designer and stylist Ingrid Leess invited me to join her and several other friends for a memorable Easter dinner at her home in New Canaan, Connecticut. She prepared a scrumptious feast with her daughter Kiira (you can get the full details on the menu—which included garlic-and-rosemary-rubbed leg of lamb, a potato-fennel gratin and grilled asparagus finished with a drizzle of black truffle oil—by visiting Kiira's blog, eatandgreet.blogspot.com).
The food was totally delicious and I've promised myself to ask Ingrid for the recipe for the exceptionally yummy Russian cream she served for dessert, but it was the festive table setting—in particular the centerpiece (or I should say centerpieces)—that really left an impression on me. Leave it Ingrid to do something that's never been done before. Instead of a predictable arrangement of spring blooms, she peppered her long and beautiful dining table (a new piece from Lillian August) with a row of compact galvanized buckets filled with scoops of earth and bright green weeds!
"It's the only thing that was coming up in my garden," she told me with a twinkle in her eye after I'd expressed my admiration for the cute miniature containers and their unmanicured contents. Although a vase tulips at the end of the table lent an air of respectability—and a note of contrasting color—to the simple setting, that little ironic flourish went a long way toward taking the edge off the tail end of a long, cold winter—and giving everyone an extra reason to smile.