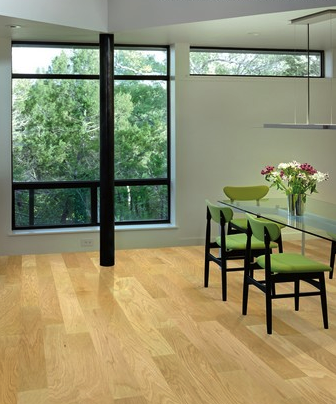 After asking for referrals and scoping out various online sites that list pre-screened flooring contractors, I found four contractors who came to our home last week to give me estimates on refinishing or replacing our mildly water-damaged wood floors. Interestingly, they all had different opinions on what could or should be done, and all offered very different quotes on fixing our floors. Here's a summary of what I found:
Experts often disagree. Two of the contractors said it wouldn't be worthwhile to refinish the floors. Two of them said it would be no problem.
You don't always have to pay extra for added value. The two highest bidders would not take responsibility for moving the furniture, the two lowest bidders would move the furniture and included doing so in their price.
Labor costs can vary widely. The highest bidder's price for installing a new engineered wood floor was more than three times that of the lowest bidder.
There are many shades of green. The lower bidders said they could refinish the floors with a buffing process, also known as screening, in which a very fine-grade sandpaper is used to remove the surface layer. They both said we'd need to restain as well as apply new top coats and the middle-priced guy suggested dying the wood rather than staining for a more eco-friendly, though more expensive, finish.
A quality check is a good thing. The second-to-the-lowest bidder invited me to visit his on-going projects so I could see the quality of his work.
There are different ways to weigh the options. Both of the lowest bidders would charge between 30-50 percent more to install new engineered wood floors than to refinish, including the cost of the floor. The second-to-the-lowest bidder would charge three times as much to install a solid hardwood floor as to refinish the existing one (he's the only one I asked).
Sometimes experts agree. Installing a hardwood floor in our home is not a practical solution, according to all four contractors—but any of them would do so if we were to choose this option. To install a hardwood floor, we'd need to put in a ¾-inch plywood subfloor over the concrete slab and then install the hardwood planks, which would also likely be  ¾-inch thick, on top. Not only would this floor be a lot more costly, it would also mean we'd have to get new metal entrance doors and shave off the bottoms of the wooden interior doors so they'd open.
We haven't decided whether we'll replace the floors, which is probably the safer choice and may add value in the long run, or refinish them, which would be the more eco-friendly choice as the old floor would be kept out of the landfill. But it was interesting to compare how four pros had such different opinions on and prices for fixing the same floors. If you're looking for pre-screened flooring contractors, some online referral services are Respond.com and Service Magic.