The Cersaie show of ceramic tiles, which is going on now in Bologna, Italy, showcases the most beautiful tiles from more than 500 international companies—and many of them become available in the U.S. Danielle De Vita, the senior account executive from NovitaPR, which represents the Ceramic Tile of Italy association, offered to write up a trends roundup for us. A thorough and inspiring report it is. Here's her summary: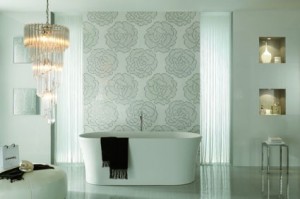 Don't you just love sneak previews, especially when they involve designer trends? Here's a great one for you: Cersaie, the international exhibition of ceramic tile and bathroom furnishings, is a platform for design-driven products and state-of-the-art architectural solutions. Now taking place in Bologna, from September 28 – October 2, the 2010 event will attract almost 100,000 design professionals from all over the world. With over 500 tile manufacturers present, the majority of whom are Italian, the hottest, most innovative ceramic and porcelain collections will premiere just before hitting the marketplace. And the three most prominent and important trends involve the letter S…STYLE, SUSTAINABILITY and SURROUNDINGS.
On the STYLE front, the 2011 style forecast calls for everything from Renaissance-inspired looks to patchwork patterns, and thanks to technology, all these archetypes have a new modern twist. Masculine stripes, delicate fabrics and muted metallics will be transformed into hard surfaces. Interesting cutouts, lace, oversize flowers, skinny stripes and mid-century modern motifs will make their way to the tile runway. What's old is new again, thanks to popular shows like Mad Men, and the swinging '60s are making a big comeback in the tile world as well.
We all adore the vintage ostrich and crocodile skin accessories of the 1950s and '60s, well Paolo Zani's new collection "Murmansk" for Ascot features a textured surface of high-tech, double-pressed ceramic tile just begging to be touched. Like a perfectly tailored suit, Lea's "Lines" collection is also backed by a designer label (Patrick Norguet) and features crisp, clean stripes of varying heights, while FAP's "Nastro" ceramic tile and accessories bring Paul Smith's fantastic stripes into the bathroom. La Fabbrica's "5th Avenue" offers textured patterns including Moon, Waves and Stripes, while its "Cathay 4 Fine" series is a ceramic alternative to ornamental latticework.
On another note, Maison Sichenia's "Jardin" series is dusted with delicate forms of barely-there flowers and interlaced brushstrokes that reveal a contemporary romanticism. The same classic elegance can be found in Phorma's "Pietra di Damasco." With decors inspired by boiseries and Baroque coffered ceilings, ABK's "Marbleway" gives a new twist to antique paneling. Like a modern quilt, Cir's "Villa Emilia" pieces together tiles with lightly stamped floral and geometric silhouettes, and Fondovalle's "Metalgloss" and "Murano" add a subtle and sophisticated metallic sheen to glazed porcelain surfaces.  Glazes are the rage, and Cersarda's "Cotti Glamour" blends traditional terracotta with a liquid metal mix to form a vibrant and luminous collection that is available in eleven different colors. Similarly "Flair," another new collection from Ceramica Cir, presents a kaleidoscope of gorgeous colors.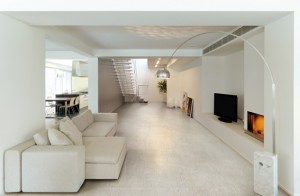 The ever-expanding category that continues to grab attention is SUSTAINABILITY. Tile is inherently green, with attributes like durability, lifespan and resistance to extreme weather, fire, water and moisture conditions. Since it is a clean, durable, hypoallergenic and low-maintenance covering solution, its use has expanded far beyond kitchens and bathrooms to spaces like living rooms and bedrooms. Besides its innate eco-friendly characteristics, many Italian tiles manufacturers are using a closed-loop process that recycles 100 percent of raw material and water wastes back into the production cycle. In addition, all Italian tiles are shipped in 100 percent recyclable containers by sea, the mode of transport responsible for the least amount of greenhouse emissions. Novabell's "Tuscania," Verde1999's "TT120," Marca Corona's "Marmo Ecologico" and Emilceramica's "Blocks" are just a few of the many new introductions containing a percentage of pre-consumer recycled content.  Refin's "Pro-gres" and "Murcia" collections contain 20 percent post-consumer recycled content from TV screens, while Casalgrande Padana's "Bios" is an antimicrobial tile.  Sant'Agostino offers customers the possibility of using a tile with total compensation of CO2 emissions. The "Green Power" collection has been certified as the first ceramic product obtained by totally compensating the quantity of carbon dioxide released in the atmosphere during the production cycle.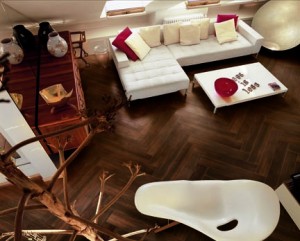 The natural environment continues to excite and inspire artists, designers and manufacturers alike. So a theme of SURROUNDINGS also makes the trends list, as introductions mirroring natural stone and luxurious marble rock the tile world. With the aid of digital technology, nature is one-upped both aesthetically and technically. These sophisticated processes produce non-repetitive patterns and tiles that are as strong as it is beautiful. Cisa and Casamood each produce a collection inspired by slate. "Gallura" by Alfalux enhances the surface of Trachyte, a volcanic rock that has become very popular in modern interior design. Floor Gres's "Pietra Piasentina" is inspired by the limestone used throughout Italy during the Renaissance, while Coem's "Scabas" recreates the look of travertine. Replicating marble, Rex's "I Bianchi," opens a new chapter in the company's line of products dedicated to natural materials. It seamlessly combines with the company's "Le Essenze" wood collection. Phorma's "I Legni," Emilceramica's "GoldenWood," Cedir's "Bambú" Sichenia's "Doghe" and Serenissima's "Timber" are a few more standouts in the popular wood-look category. The final natural trend to consider involves insects! Mutina, in collaboration with designer Patricia Urquiola is launching "The Big Bug," a new lunch table from the Bugs Family collection. With a hexagonal tile top, it can seat up to six people.
It's fun to be privately tutored at The Happy Home Workshop. I hope this preview of what's happening in Italian ceramic tile will both inform and impress!
—Danielle De Vita
Many of the tiles will be available in the U.S. through various showrooms throughout the country next spring. To find out more about the exhibitors at the Cersaie show visit its Web site.