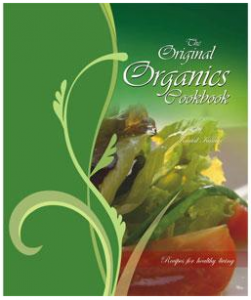 I've never met an Indian who doesn't like Indian food, but I've met quite a few who are very particular about how it's prepared. Among the fussy ones is my husband, Anil, who will only eat Indian dishes prepared with the freshest ingredients, just the right amount of spices (never too much) and minimal oil. A couple of years ago, we had the good fortune of visiting a wonderful boutique hotel/yoga retreat/spa called Ananda in Rishikesh, India, near the foothills of the Himalayas. The yoga classes were terrific, and the organic food was exceptional—so exceptional, in fact, that my husband asked me to see if the chef would supply me with a few recipes so that I could attempt to recreate the food at home. And so I did.
That was the beginning of my wonderful long-distance relationship with Kuntal Kumar, a sensational chef and the author of a cookbook called The Original Organics Cookbook: Recipes for Healthy Living. Kuntal and I have stayed in touch over the years by email and he has kept me up to date about his marriage, the birth of his first child, his move to two other hotels in India, the publication of his book, and his latest move to Africa, where he is one of the collaborators in Gibbs Farm, a hotel and spa near the Ngorongoro Conservation Area in Tanzania. Originally built in 1929 by German settlers, the farm and cottages have recently been converted into a traveler's retreat and living spa, where the food served is made from vegetables and fruits grown in the sustainably farmed 10-acre garden on the property, and where indigenous healing methods are part of the spa experience. The great thing about Kuntal's approach to food, aside from its healthy organic foundation, is the global influence. The food we had at Ananda had a fresh Western twist, which both my husband and I really appreciated.
Since I'm planning a summer party next month (see the post on Artful Floral Arrangements with floral designer Mark Rose's ideas on a centerpiece), I contacted Kuntal to see if he could suggest an easy Indian-inspired menu for the affair. He kindly obliged and the recipe for the potato-and-bean-sprout tikki and berry chutney that follows is the starter portion of the meal. The other parts of the meal, a meat dish he's still working on and stuffed capsicum, might be a bit challenging for a girl like me, but I'll do my best to give these recipes a shot. I'll also share the recipes for the other dishes on the menu in later posts—and I'll share my friends' reactions. If you want to find other creative and easy-on-the-Western-palette ideas for Indian-inspired food, look for Kuntal's book online. It's brimming with gourmet dishes that are good for your health, too.
Here's his recipe for the tikkis:
Time: 60 minutes
Serves: 4-6
Berry chutney
1 cup frozen blueberries
1 cup frozen raspberries
1 tbsp lemon juice
1 tbsp icing sugar
Stuffing
1 tbsp oil for pan frying
½ tbsp minced ginger
1 cup bean sprout
1/3 tsp garam masala powder
salt to taste
1/3 tsp red chili powder (optional)
1 tsp cumin seed, dry roasted
Tikki
3 large potatoes, boiled and peeled
salt to taste
1/3 tsp ground black pepper
¼ cup chopped coriander
1 medium onion, finely chopped
oil for pan frying
Instructions:
Berry chutney:
Put both the berries in a pan, cook on low heat, pressing with the spoon once. As soon as it comes to boil, remove the pan from the stove and cool. Stir in the lemon juice and the icing sugar and keep in the refrigerator until required. This chutney can be kept for 3-4 days in the refrigerator
Stuffing mixture:
Heat oil in a pan, add ginger and sauté for a minute; add the bean sprouts and the rest of the stuffing ingredients. Season and transfer to a plate to cool. Divide the stuffing into 8-10 equal portion and keep aside.
Tikki
Peel the potatoes and mash them using a fork, there will be some smaller lumps which is not a worry. Add salt & pepper, coriander leaves and onions and knead until properly mixed. Divide into 8-10 equal portions.
Wash and dry your hand and rub them with little oil, take each portion of the potato mixture and make a ball. Gently flatten each ball into round patties, ½ inch thick, place a portion of the stuffing in the centre and fold the edges together very carefully so that the stuffing is fully enclosed.
For the final cooking:
Heat oil in a non-stick fry pan over medium heat. Slip in the patties, not too many at one time and pan fry on both the sides until surface is crisp and golden brown. Add oil if required from time to time.
Serve them with berry chutney.