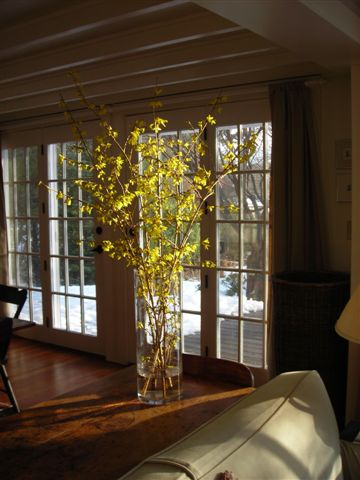 Mid-winter blues starting to get to you? Our friend Megan Fulweiler just sent us another post with one of her techniques for beating them—forcing flowers. Here's what she wrote:
To combat winter blues, I long ago began a tradition. As soon as the holiday decorations are safely stored away, I grab my garden clippers and head outdoors. An armful of forsythia branches snipped from our bushes and plunked in a container of tepid water takes only about two weeks to open. Kept out of direct sunlight, the cheery yellow blossoms last for days. Still to prolong the delight of having spring flowers while snow blankets the yard, every week I snip another branch or two.
A handful of short twigs—covered with blossoms—corralled in a bud vase is just right for my desk or by the sink. But if we really want to make a statement, nothing beats a tall arrangement. "Always remember: the taller the better. Height adds grandeur to any room," writes Elle Décor editor at large Carlos Mota in his pretty book Chic & Cheap. To help his branches get a better drink, Mota uses a paring knife to slit them about 4 inches up from the bottom and then slightly smashes the ends with a hammer before dropping them in water.
Of course, forsythia is not the only beauty that can be coaxed into making an early appearance. Cherry—think dainty pink blossoms—works just as well. Mota likes a single leggy branch held aloft in a clear antique bottle or 10 to 12 branches together (tallest ones go in last) in a no-see-through ceramic vase to hide the water as it turns brown.
Other good candidates for forcing include apple, crabapple, dogwood, witch hazel and magnolia. Alas, a lilac branch rewards us only with small green leaves the color of grass. But on frigid days, that's gift enough. And if we marry the lilac stems with tulips (a splurge from the florist), we can create a spring bouquet weeks ahead of Mother Nature's schedule.—Megan Fulweiler
Thanks for the mood-boosting tip, Megan.