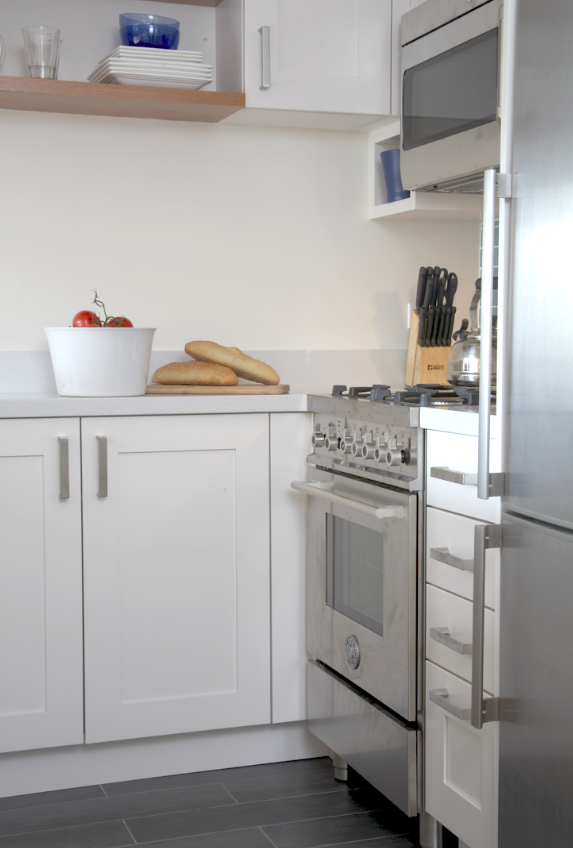 When planning a kitchen renovation, why not make it as eco-friendly as possible? This one includes sustainable materials and energy-efficient fixtures and appliances throughout. The tiles for the floor and the backsplash are from Country Floors' new collection called Hamptons and they are cut and textured to look like planks of wood in a range of colors, including the charcoal gray hue shown here called Gun Metal. They're the first tile made that qualifies for points from the U.S.Green Building Council's LEED certification program (LEED stands for Leadership in Energy and Environmental Design and is generally considered the gold standard for judging eco-friendly design in the U.S.).
Here's a list of the qualities that make the tile green:
• All natural materials, including quartz, feldspar, clay, kaolin, and natural coloring agents, are used in production
• The tiles require no sealants and no waxes
•They do not release any VOCs
•The collection contains up to 40 percent recycled post consumer waste
•The tiles are manufactured domestically in Tennesse, which makes their carbon footprint lower than if they were transported from China or Italy
The product is also reasonably priced at $6.50/square foot and it's a quick-ship material so lead time is generally within two weeks.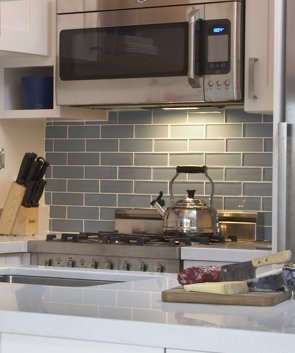 Since the backsplash behind the stove is small, pale blue brick-shaped 2×6-inch glass tiles from Country Floors' Neopolis collection were chosen to add a splash of color. They cost $63 per square foot in the glossy finish we chose and, because the tiles are made to order, lead time is around 6 weeks. These tiles are also made in America, which reduces their carbon footprint, too. If you want to find out more about these tiles, or any of the beautiful historically inspired tiles available through Country Floors, visit its Web site.