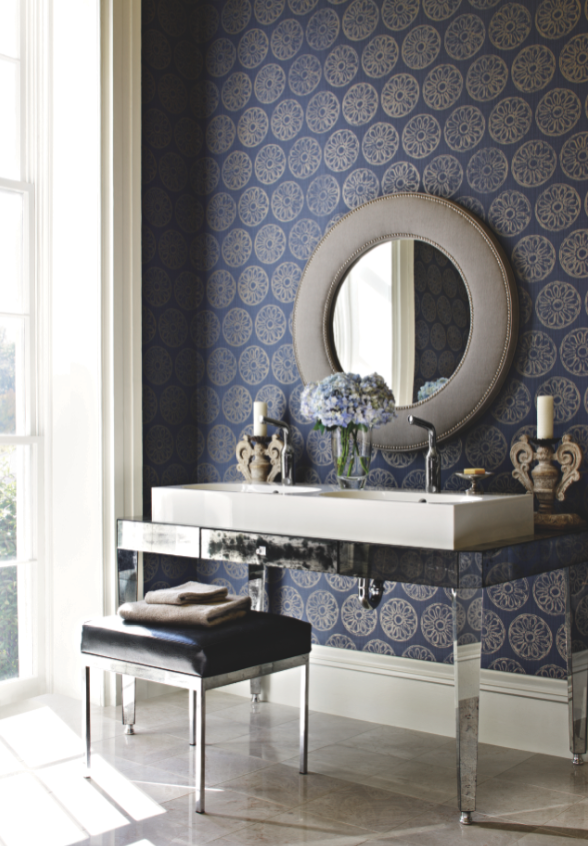 When we learned last month that Thibaut, one of our favorite wallpaper companies, was teaming up with The Alpha Workshops, one of our favorite artisan collectives, we knew that the outcome of their collaboration would be terrific. And when we saw the saw the beautiful wallpapers they produced together at a recent press party, we saw exactly what we'd expected: Lovely, livable prints and textures brimming with hand-crafted touches in a fresh palette of colors.
The studio of Alpha Workshops, a not-for-profit organization that trains and employs people living with HIV/AIDS in the decorative arts, is well-known for hand-painted wallpapers, custom painting, Venetian plaster work, decorative finishes, and artwork. And Thibaut, which is the oldest continuously operating wallpaper company in the U. S. and is beloved for its inspiring color palettes and fresh interpretations of classic designs, captured essence of an array of the studio's one-of-a-kind designs in its new Artisans Collection of wallpapers, making them widely available a range of beautiful colors.
One of these wallpapers replicates a signature Alpha hand-blocked print called La Gioconda, a diamond-shaped trellis pattern, including its textured brushstrokes, which are rendered in rich ink on what looks like a stone surface.  Another of my favorites is a tactile medallion pattern called Maryse, which is inspired by a motif created by The Alpha Workshops using a painted finish called Vere Eglomisé, which results in the metallic effect of gilded glass.
The Artisan Collection and other Thibaut wallpapers are available through interior designers and fine decorating stores worldwide.  Visit Thibaut's Web site to view patterns, decorating ideas, and to obtain the names of local dealers.