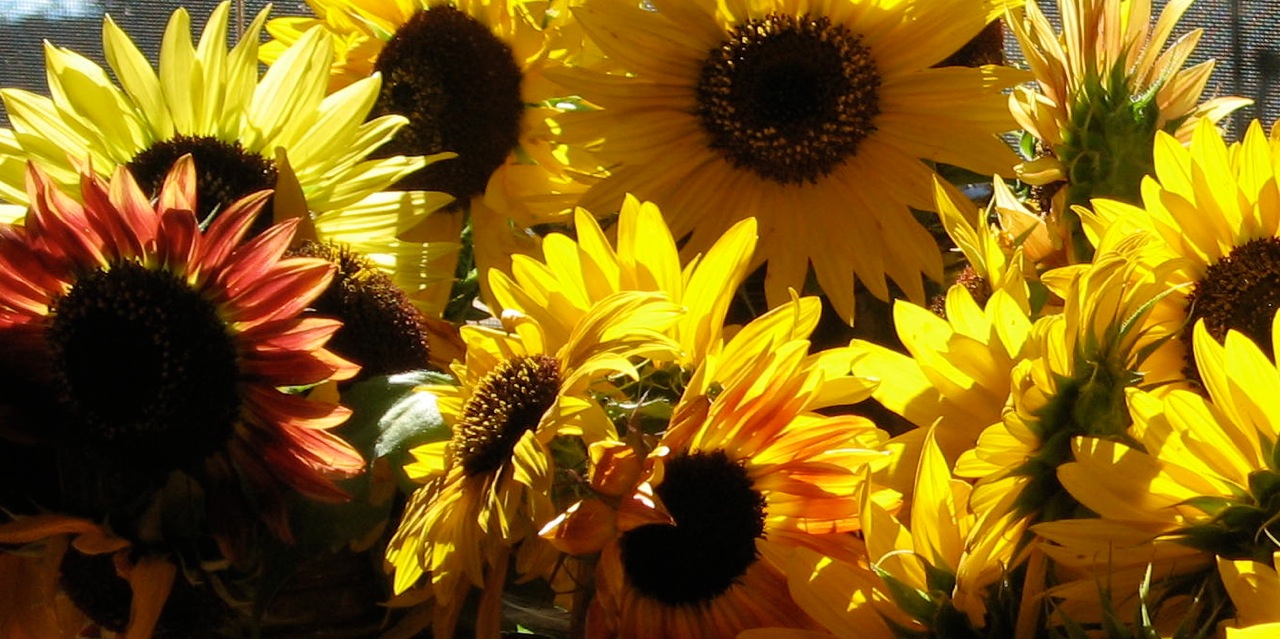 A couple of weeks ago, I attended a party showcasing a new green boutique apartment building at 180 East 932d Street in New York, where I met the talented floral designer Mark Rose. Mark created the floral arrangements for the model apartment in which the party was held, and I was impressed with how beautifully they complemented the room's subtle, sophisticated décor, which was done by interior designer Richard Mishaan.
Since I plan to host a mid-summer dinner party next month, I asked Mark about his approach to doing flowers, hoping for ideas for a casual yet inspired centerpiece for the gathering. I learned that Mark has a background in architecture, which explains why the arrangements he creates seem to integrate so seamlessly in the spaces he regularly shapes for special events and weddings. "My education in architecture at NYU gives my work a foundation in design," he told me. "New York City, with its fantastic buildings and rich history, has been a wonderful laboratory for me—I've gained a deep appreciation and respect for the architecture of the spaces in which I work, and studying them has taught me a lot about working with flowers in big spaces." As a case in point, Mark described the flowers he recently did for a party at the Four Seasons restaurant in the Seagram's building, a classic modern landmark building designed by Mies van der Rohe and Philip Johnson in 1959. "I thought a lot about the lines of the space and used a restrained approach to embellish the room with flowers, not camouflage it," he told me. In more traditional settings, his floral arrangements are just as refined, yet they're abundant and magnificently grand.
The character of the setting, be it modern, traditional or somewhere in between, is just one of the cues Mark relies on to create his arrangements. Another is the taste and personality of his client. "Flowers bring life to a space, and with them you have the opportunity touch people in a sentimental way. People associate flowers with certain times or people in their lives. Someone might say, 'My mother used to pick white lilies of the valley,' or 'Hydrangeas remind me of when I was a child at the beach.' There's always a story behind the request," he says. The season also dictates the types of flowers Mark uses. Known for using the very best flowers, Mark works only with elements that are in season. "And if you use what's in season, you're at the whim of Mother Nature," he says.
An admirer of the French floral designer Christian Tortu as well as the Belgian designer Daniel Ost, Mark is also known for unexpected elements, such as fruits, vegetables and herbs, in his arrangements. "I believe in buying locally, especially from the farmers market, where you can get the freshest flowers, leaves, herbs and vegetables," he says. Since my apartment leans modern, he also suggested that I consider what he calls a "deconstructed arrangement" for my summer party. This type of arrangement involves grouping multiple containers of flowers or herbs together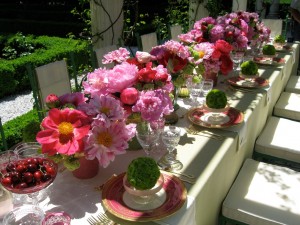 with a collection of pillar candles in glass containers of different sizes. His favorite flowers for summer are novelty sunflowers, which he says range in color from almost white to burgundy to almost black. Since my husband is from India, he thought another nice option for my party would be to go with really bright fuschia, hot pink and tangerine flowers. "Not everybody has the courage to use bright colors," he said. "But in the right setting they can be stunning."  To see what he means, just look at the gorgeous arrangements he designed for this party in Newport. You can see more of his work by visiting the Web site of his company Mark Rose Events.